Egyptian hieroglyphs (/ˈhaɪər.ɵɡlɪf/ hyr-o-glif) were a formal writing system used by the ancient Egyptians that combined logographic and alphabetic elements. Egyptians used cursive hieroglyphs for religious literature on papyrus and wood. Less formal variations of the script, called hieratic and demotic, are technically not hieroglyphs.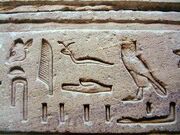 Etymology
The word hieroglyph comes from the Greek adjective ἱερογλυφικός (hieroglyphikos), a compound of ἱερός (hierós 'sacred') and γλύφω (glýphō 'Ι carve, engrave'; see glyph), in turn a calque of Egyptian mdw·w-nṯr (medu-netjer) 'god's words'. The glyphs themselves were called τὰ ἱερογλυφικὰ γράμματα (tà hieroglyphikà grámmata) 'the sacred engraved letters'. The word hieroglyph has become a noun in English, standing for an individual hieroglyphic character. As used in the previous sentence, the word hieroglyphic is an adjective, but is often erroneously used as a noun in place of hieroglyph.
Ad blocker interference detected!
Wikia is a free-to-use site that makes money from advertising. We have a modified experience for viewers using ad blockers

Wikia is not accessible if you've made further modifications. Remove the custom ad blocker rule(s) and the page will load as expected.