This article was featured! This article was once featured on the Math Geek Net homepage
---
Please visit the page Featured Articles for more information.
Mathworks is a site create with the site builder stinge. It is created by us, Wikimath. We created this to help people with online calculators. Since we can't use those here. We use the same copyright format: Best topics with the best information.
Advertisements

The advertisements are simply just inactive links to other pages on the site or outside sources. They are simple images so they don't distract you from your work.
Math Solver
We also have a math solver for you. The math solver can computer any math problem and also give additional details.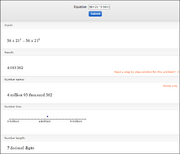 Link
Here is the link: Click Here
Ad blocker interference detected!
Wikia is a free-to-use site that makes money from advertising. We have a modified experience for viewers using ad blockers

Wikia is not accessible if you've made further modifications. Remove the custom ad blocker rule(s) and the page will load as expected.